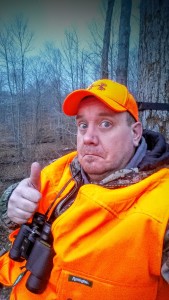 Today was my fourth day hunting this deer season – it was also my last. The season officially ends tomorrow, but tomorrow is too full to get back out into the woods for me with our Children's Christmas Musical dress rehearsal and a staff Christmas dinner in the evening. Today was my "last shot".
Yesterday I hunted all day with about 10-guys – most of them from our church. No deer for any of us. The first week of the season I was out on opening day and had a couple deer within sight, but wasn't able to squeeze off a shot. Last Thursday I hunted all day with about 15-guys – only one 7-point buck fell to the youngest among us (way to go, Kenton!).
Today I was invited to join a 50-year hunting veteran, Denny, in the woods for my last chance at a deer this season. He offered to pick me up and would even secure me a tree stand to borrow! I was pumped to get into the woods this morning. The tree stand I was given to use was a Tree Lounge model – if you don't know what a Tree Lounge tree stand is, please enjoy this old-school commercial:
I've never before used a "climbing" tree stand, so this was a new adventure for me this morning. I'm thankful that both Jason and Denny gave me lessons before just throwing me out into the woods on my own. After Denny got me setup to start climbing the tree this morning I climbed to about 12-feet before I cinched everything down and got in position. (I wondered all day if my body would survive a 12-foot fall versus a 30-foot fall). The view from my perch was fantastic!

At about 10:30, two doe ran up on my right-side startling me from my perch. I quickly grabbed my borrowed Savage model 99 (.300) rifle and put the scope on the first doe. They both continued to run and I lost my opportunity on the first, but took the shot on doe #2 and she ran about 10-yards and dropped! I was super excited.
From his perch about 300-yards away, Denny radioed me telling me I scared the liver out of him – it had been a wonderfully peaceful morning up in our trees. We sat for another hour before heading over to where my doe was.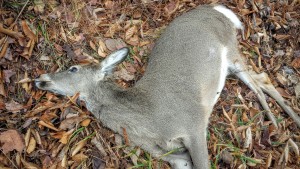 I was pumped. I was pumped to have shot a deer which meant meat in the freezer for our family AND was pumped knowing that I had a 50-year hunting veteran standing over my shoulder to walk me through gutting this little lady.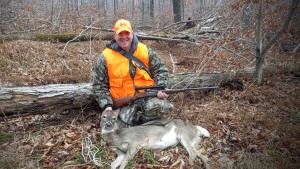 Denny was patient with me as I butchered my way through the field dressing process. When we finished we walked down to a nearby stream to wash up before enjoying our lunch together.
We spent the remainder of the day back up in our stands – unfortunately we didn't see any more deer. I'm so thankful for the day, for the deer, and for the memories!
I am already looking forward to next year's deer season. Definitely looking forward to a chance at a buck. I'm also definitely keeping my eyes open during this off-season for a great deal on a Tree Lounge tree stand!
If you're interested, my first two deer-harvesting experiences are chronicled here on my blog – Deer Diary Entry 1 and Deer Diary Entry 2