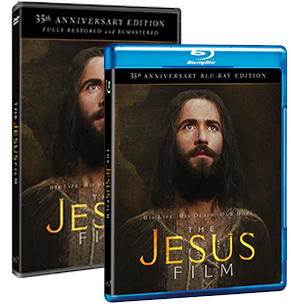 "It is the timeless story of the most beloved – and yet the most controversial – figure ever to walk the earth. Experience the most watched film in history based on the world's bestselling book, the Bible.
After 35 years, 6 billion viewings, 1,200 language translations and countless numbers of transformed lives, this classic film taken directly from the book of Luke has been re-mastered in high-definition with a new musical score in Dolby 5.1 surround sound and special bonus features to bring the person of Jesus to viewers like never before."
From the official press release: During the film's restoration, each of its 173,000 frames were individually and painstakingly re-touched and re-colored, and new sound effects were added. The quality of the re-mastered, high-definition version of "The JESUS Film" is equal, if not greater, to other re-released classic films from similar eras, including "The Ten Commandments."
"Unlike other religious films, which contain graphic violence or do not adhere to Scripture, 'The JESUS Film' script is taken directly from the Bible and shown in a cinematic style suitable for all ages," Schenkel said. "The new greatly enhanced video and sound quality elevates the emotional viewing experience of this 35-year-old film to a new level, making it fresh and appealing to a generation that may not be aware of who Jesus is."
The re-released movie trailer:
Details of the Blu-Ray release (from Amazon.com):
The disc includes The JESUS Film in a total of eight languages English, Spanish, Mandarin, French, Vietnamese, German, Korean and Arabic.
Bonus Features:
The Making of 'The JESUS Film' – A documentary that highlights the attention to historical and Biblical detail in the making of the 1979 film, JESUS.
The Impact of 'The JESUS Film – A ten minute celebration of what God has done through the film JESUS over the last 35 years.
Historical Notes – A quick overview that sets the context for the time and place of Jesus ministry.
The Blu-Ray is available for pre-order right now on Amazon.com – http://bit.ly/jesusbluray
The DVD is available for pre-order on Amazon.com as well – http://bit.ly/jesusdvd