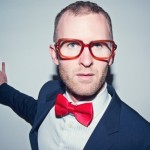 I've been a fan of the (musical) artist, Fresh Big Mouf for a while now. He's been a behind-the-scenes music producer/collaborater with some other artists that I've followed.
Recently, however, he has somewhat reinvented himself as what he terms, a "beat scout" – which is exactly what it sounds like: a person searching for beats.
Rather, Fresh Big Mouf runs around to various locations and picks up various sounds (beats) through the mic-input on his phone and records them using a fancy app (that I've yet to figure out) that allows him to add effects and overlays to actually build a song using sounds from everyday life. He then, admittedly, heads to his home-studio and mixes the track to its final format and uploads them via these well-produced music videos for the world to enjoy by way of YouTube.
I can't get enough. Seriously.
The video I'm including here is of Fresh Big Mouf and Kina Grannis (another YouTuber) and together they collaborated on a cover of The Supremes "You Can't Hurry Love" capturing all the beats from inside a church building.
It's really something you need to see (hear?) to understand:


If you know anything about YouTube, you'll probably notice that Fresh Big Mouf has an alarmingly LOW subscriber count (3,196 at the time of publishing this blog post). This is absurd. Talent like this needs to be promoted and shared. If you're on YouTube and subscribe to any YouTubers, might I suggest that you take a second to subscribe to his channel, too?!
Also if a cover of The Supremes' "You Can't Hurry Love" isn't enough to make you click, how about one of his other already-made Beat Scout cover videos: (links point directly to the videos on YouTube)
Ho Hey by the Lumineers
ABC by The Jackson 5
Suit & Tie by Justin Timberlake
Afterlife by Arcade Fire
Royals by Lorde (feat. Kina Grannis)