My sister Sherilyn is up to some God-sized things in the heart of Uptown Chicago. She has been there for a few years now living in community with many of the "castoffs" of our society showing them Christ's love in action by doing life together. She has established a non-profit organization called "JUSTembrace" to help manage the finances and administration of this community.
In her words:
"I remember the first time that I came to this neighborhood… I was overwhelmed with the vulnerability that I saw all around me – I felt like every person that I passed had a story…everyone has a story, but not everybody wears it on the outside…

This neighborhood has an overwhelming concentration of vulnerable men and women. …this is the part of Chicago where we have just shoved all of the forgotten and unsightly and unruly people in our society. That made me fall in love with this neighborhood immediately.

I believe our vulnerability puts us in a position to be able to experience healing and love and authentic community in a way that is more difficult when we haven't been in touch with authentic vulnerability."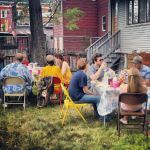 Last year I went up with my Dad and Uncle to help her move from her first Uptown apartment into the upstairs apartment of the community-friendly house she currently lives in.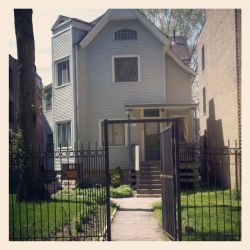 Just recently the bottom (larger, more suitable) apartment became available and she desperately needs help to afford to rent out BOTH the upstairs and downstairs to increase her reach in positively affecting her community there in the Uptown neighborhood. The cost to rent the downstairs apartment for one year is $18,600. I have encouraged her to try and "crowd-source" this fundraising need and am trying to help by posting about it here on my blog. Originally we though Kickstarter or HopeMob would be places to do this with a wide-audience, but both fell through.
Watch this video for a better understanding of the impact Sher and her team at JUSTembrace are having within their community:

So, will YOU consider helping to make a WORLD of difference in this Chicago neighborhood and "JUSTembrace this place"?
How YOU can help right now:
Make a donation of ANY amount. You can make secure donations via credit card or e-check by way of their website here.
Help share the "JUSTembrace This Place" campaign with any/everyone you can. Tweet this blog post, post about it on Facebook, send emails to your friends and family – anything you can do to help get the word out will help JUSTembrace continue making a HUGE impact in their community!
Pray! Pray for JUSTembrace, pray for this "JUSTembrace this place" campaign. Pray for my sister Sherilyn. Pray for the other team members. Pray for Uptown Chicago.