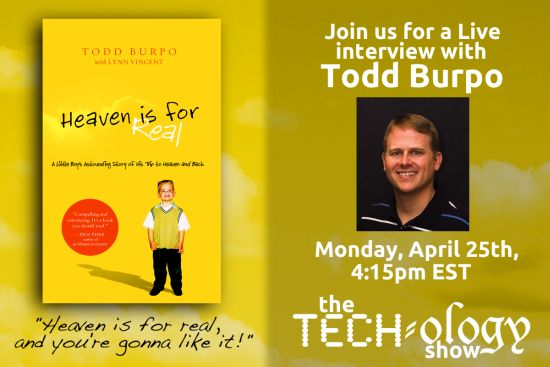 At 4:30PM this afternoon (April 25, 2011), my friends at The Techology Show are scheduled to interview author and pastor Todd Burpo about his book "Heaven Is For Real". I'm doing everything in my power to be settled in behind my laptop for this LIVE interview that is available for FREE at
http://thetechologyshow.com/live
I read the book a few months ago and posted my brief review here.
Here are some of the details of the podcast:

Interview with Todd Burpo, author of New York Times Bestseller Heaven is for Real at 4:15pm EST at www.thetechologyshow.com

A Kindle Edition of the book will be given away to an individual who leaves a question or comment for Rev. Burpo by calling 304-986-5649.
Multiple copies of the book will be given away during the show to listeners in the chatroom.
If you're going to be tuning in, let me know in the comments! If you're not, but you have a question that you'd like for ME to ask (if I have the opportunity via the chat room) go ahead and leave that in the comments and I'll do my best!