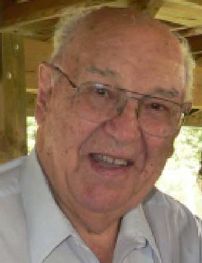 Wilson D. Miller, 85, of Nazareth, Pa., formerly of Danielsville, PA. died Wednesday, April 13, 2011, at his home surrounded by his loving family. He was the husband of the late Ruth E. (Kleppinger) who died in October of 2006, and Alma E. (Buskirk) who he married in June 2007. Born in Bath, PA. he was the son of the late Daniel and Nettie (Deemer) Miller.
Wilson was a self-employed General contractor for 55 years and an Auctioneer for over 30 years in the Danielsville area. Prior to he worked for the former Bethlehem Steel Corp. as a foundry chainman for several years. He was a long time member of the Zion Wesleyan Church, Point Phillips, PA., where he also served as the Sunday School Superintendent for 45 years. A 20 year member of the Christian Businessman's Association; He was a member and Past President of the NIMROD Hunting club, Belfont, PA. He was a member of the American Legion Post #899, Danielsville, PA. Wilson was a musically inclined individual able to play many different instruments. He was also gifted when it came to woodworking and wood craft, he owned and operated Will's wood craft in Danielsville, PA. for many years. He served his country as a Seaman 1st class in the U.S. Navy during WWII.
Surviving along with his wife Alma are;
Two Daughters,
-Bonnie R. wf. of Abraham Sauder of Schwenksville, PA.
-Sally A. wf. of Pastor Paul Sheets of Middleburg, PA.
Four Sons,
-Rev. Barry Lee Miller & wf. Yvonne of Galax, Va.
-Glenn D. Miller & wf. Kimberly of Allentown, Pa.
-Bruce A. Miller & wf. Lynn of Danielsville, Pa.
-Brian C. Miller of Walnutport, Pa.
Two Step Daughters;
-Mrs. Maryann Deutsch of Nazareth, PA.
-Patricia wf. of Robert Pyle of Allentown, PA.
Step Daughter-in-law; Mrs. Barbara Konrath, Allentown, PA.
Two Sisters,
-Grace wf. of Rev. Earl Heckman of Wiconisco, PA.
-Mary Jane wf. of Allen Bohun of Delps, PA.
13 Grandchildren
19 Great-Grandchildren
6 Step-Grandchildren
13 Step Great Grandchildren
He was predeceased by 2 infant Sons, A Granddaughter; Stacia Sheets, 1 Brother and 2 Sisters.
Arrangements are being handled by Schisler Funeral Home, Inc., 2119 Washington Avenue, Northampton, PA. 18067.
The family will receive friends from 4:00 PM to 7:00 PM Sunday, April 17, 2011 at Bethany Wesleyan Church, 675 Blue Mountain Drive, Cherryville, PA. 18035. Funeral service will follow at 7pm at the church. Phone #: (610)262-2727 – Fax #: (610)262-4699
There will be additional visitation on Monday April 18, 2011 from 9-10am at Bethany Wesleyan Church followed by a Praise and worship service at 10:00am. Pastor Paul Sheets, Rev. Barry L. Miller, and Rev. Tedd Leininger will officiate. Interment will follow the Monday Service at Covenant United Methodist Church Cemetery in Point Phillips, PA.
CONTRIBUTIONS: May be made to the Zion Wesleyan Church Building Fund C/O the funeral home.