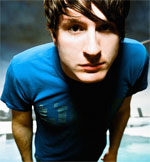 I love reading the Tweets and Blogs of a few 'famous' people. One of those 'famous' people is Adam Young – the young man behind the group "Owl City" and that song-you-can't-get-out-of-your-head "Fireflies".
I had known for awhile that Adam is proud-and-loud about his faith in Jesus Christ – but only via third-parties. Some of his music and lyrics had shown up in some youth ministry resources with a blurb about his testimony for Christ.
Just this week, however, Adam made it extremely clear personally where his "hope is found" via a blog post over at his site – owlcityblog.com
From his blog post:
_____
As I'm so often reminded what a priceless gift my life is, I ache with everything in me to make it count, so that when I finally cross the finish line, I'll hear the words, "Well done, good and faithful servant."

To me, there is no greater reward.

Of course, all of this weighs heavily on the spiritual scale, so allow me to be completely honest and say none of it is intended to be "crammed down the throat," if you will. That is not my intention. This is what I wholeheartedly believe, and to that belief, I remain steadfast until He returns or calls me home.

One thing is certain:

When He comes for His own, He will have no trouble recognizing me… because my banner will be clear.
___
Powerful words from the twenty-four year old singer/songwriter.
Young also embeded a recently-recorded cover-track of "In Christ Alone", written by Keith Getty and Stuart Townend. That is getting radio-play now here, locally.
You can download the track here: "In Christ Alone" by Owl City.