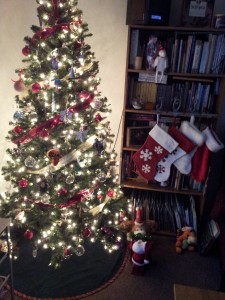 It feels good to sit here in the living room and be able to see the Christmas tree all lit up and decorated in our dining room.
We had a great time yesterday afternoon picking out a new (artificial) tree and bringing it home and setting it up and decorating. We knew our upcoming calendar-schedule and its over-filled nature, so we opted for an early setup this year and it's a decision I think we're all pleased with making!
It's fun to watch the wide-eyes of Ella and Ezra as we get out the ornaments and decorations and get things set up – they do thoroughly enjoy getting the house prepped for the Christmas season!
For the past several years we've setup and decorated our family Christmas tree and shot a time lapse of the process.
2013 –

2012 –

2011 –

2010 –

2009 –

2008 –

2007 –
I wish I knew why I have no video from 2007. Not 100% sure we even did a time lapse in '07.
2006 –