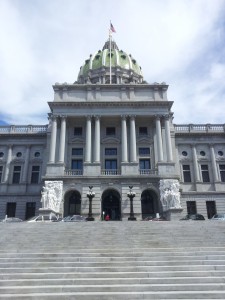 I had the opportunity to serve as the "guest chaplain" at the Pennsylvania State Senate session on Wednesday, September 25th. I had received a letter more than a year ago asking if I would consider this role and be willing to be added to the list of possible chaplains. I replied with a "yes" and never imagined I'd actually have the chance.
The phone call happened only the week-before and I asked all of the questions in my head and the correspondence with the Senators' offices answered the ones I didn't think to ask.
I reached out to some family and friends for any tips and tricks they could share with me for preparing for such a unique opportunity. The feedback they all gave me was valuable.
On that Wednesday morning I drove Ella to school and then headed off to Harrisburg to our State Capitol building in my pressed suit and tie. I was given a parking spot for the day – reserved for the guest chaplain – and was able to park close to the entrance.
Once inside, I was instantly overwhelmed. Security was expected, but what was not was the grandeur of the architecture and the hustle-and-bustle of the people inside. I was a jaw-dropped, picture-snapping tourist almost instantly.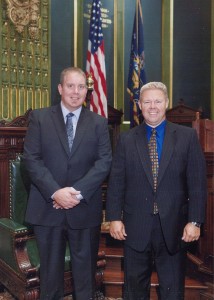 I found my Senator's office and went inside to introduce myself and get my instructions for the rest of my time there. I met Senator Richard Alloway's Chief-of-Staff and his Administrative Assistant and had wonderful conversations with both of them. The office was gorgeous and historic. I was still in tourist-mode, but was trying to play it cool in the company of these employees. Senator Alloway had numerous visitors before the Senate session, so I was not able to meet him until a few minutes before the session began up on the Senate floor.
I was ushered out of the office-area and walked down the hallway and into the Senator's elevator and up to the Senate level. I was walked down another hallway and then had to crouch through a small doorway into the actual Senate chamber. (this "crouching" through the short doorway, I found out during my building-tour later, was an intentional design to force those coming in to the chamber to humble themselves by needing to bow to get in!)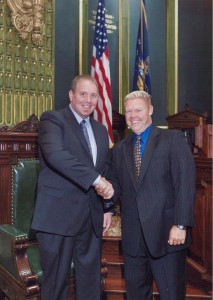 Inside the chamber I was introduced to our Lieutenant Governor, Jim Cawley and was told that he would be introducing me. I met a few other Senators and others who were there in the chamber fulfilling various roles. Quickly, Senator Alloway came in and we were introduced and he thanked me for coming and filling the role of guest chaplain. We were then met by a photographer who snapped our photos and I was shown where I would be sitting during the session.
Lt. Gov. Cawley brought the session to order with a powerful gavel-pounding and before I knew it I was being introduced and was offering my prayer for the session.
It was quite an honor and an opportunity I know I'll remember for a lifetime.
Just today I received, in the mail, a package from Sen Alloway's office – the two photos that were taken of the two of us and a DVD of me being introduced and praying at the opening of the session.
You can watch the video here:

(embedded video, if you can't see it, click here)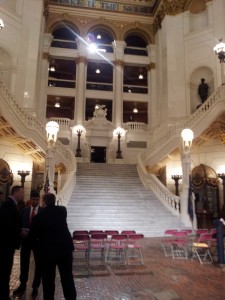 After my prayer and after the Pledge of Allegiance, I was seated back in my "Chaplain's chair" (more like a throne) and I sat through the remainder of the Senate session (not a requirement, but something I wanted to do). It was fantastic watching the business take place right in front of me (literally). I wasn't allowed to take pictures during the session so I felt as though I also needed to sit as motionless (read: behaved) as possible there in my up-front seat. I did, I think.
The session was short that day and I met Senator Alloway's assistant out in the hallway and she took me back downstairs (in the Senator's elevator again). She took me over to the lobby where I could sign up for a building tour. I did. I learned a lot about our PA Capitol, the history of our great Commonwealth, and our founder- William Penn. There is a virtual tour of this amazing building here. I am planning to take the whole family back again for a tour of this great building in the near future!