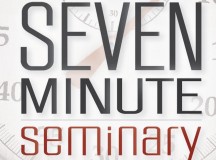 Today's Seven Minute (it's actually 10-minutes this time) Seminary from Asbury Theological Seminary is, in a word, FANTASTIC!
Listen to Dr. Laurence Wood discuss the relationship between predestination, holiness, and science.
My favorite quote from Dr. Wood that helps explain the Armenian understanding of predestination, God's Omniscience, and our own free will (I tried to fix it a bit for sake of writing it out):
". . . God knows everything – but what causes God's knowledge is what WILL BE and what WILL BE is not determined by God's knowledge . . ."
If that quote doesn't cause you to want to watch this full clip, I'm not sure what else will!

If the embedded video won't play for you, the video is here.
You can watch all of the Seven Minute Seminary videos from Asbury by going to this link.