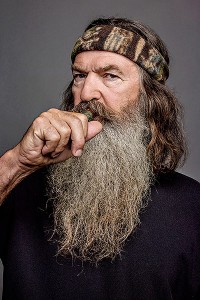 A terrific, almost 5-minute interview with Duck Dynasty family patriarch, Phil Robertson with Alex Crain of Christianity.com. In this interview he's promoting his new book (that I've pre-ordered, and you should too!), "Happy, Happy, Happy". It's still available for pre-order on Amazon at a great price and releases on May 7th.
"The piece of mind you get when you come to Jesus – Happy, Happy, Happy." – Phil Robertson
I look forward to reading this book and hope to review it here afterward. Anyone else have it pre-ordered?
Duck Dynasty's Phil Robertson: "Happy, Happy, Happy" from christianitydotcom on GodTube.