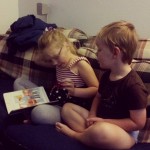 Last night Ella offered to read a book to Ezra before getting ready for bed. I snapped this photo and quickly Instagrammed it before realizing I should be capturing these moments on video!
I love capturing moments like this and having the opportunity to share it with friends and family (and whoever else might happen across our family videos!)
We love and encourage Ella's willingness to read to her brother. She's reading chapter books as often as she can these days and LOVES the Magic Tree House series right now.