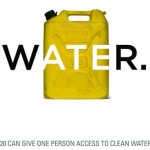 I'm turning 33 on July 24th. Yep. Getting older.
I'd love to provide clean drinking water for at least 33 people through the efforts of CharityWater for my birthday this year!
Would you consider helping me? Financial gifts in ANY amount are welcomed, just click here for the campaign page.
Approximately 1 BILLION people do not have access to clean drinking water – together we can help lessen that number by just a few and learn to love beyond ourselves in the process.
Check out my CharityWater Birthday Campaign by clicking my pledge here: