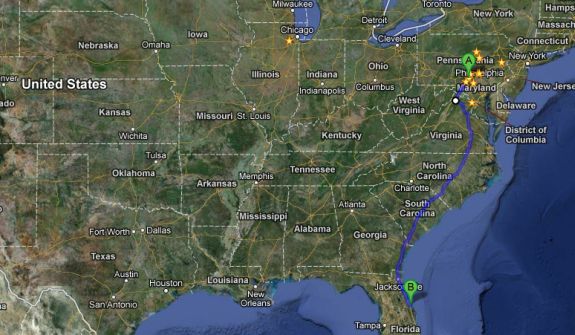 After church this morning we will load up our final beach-supplies and begin the trek South to Sunny (hot, sticky, etc.,) Florida!
I'm looking forward to being "that Dad" today that keeps track of gas-mileage, moves the family along during potty-breaks, and attempts to drink 3-or-more 5-Hour Energy Drinks in one sitting.
I know for a fact that songs will be sung ("Hey, I just met you, and this is crazy…"), stories will be read, movies will be watched, and tears will probably be shed.
If my calculations are correct and my travel-plan-A works as planned, we should be arriving just in time for the sunrise Monday morning!
---
HELP! If you happen to read this post between 1PM Sunday and 6AM Monday, consider leaving a comment and giving us some travel-tips. We are traveling with a 6-year-old and a 3-year-old and many of you seasoned families have some tried-and-true travel tips you could share with us. We would LOVE your input from your road-trip experiences and whoever is riding shotgun will be able to read the comments, so go-ahead, let us have it!