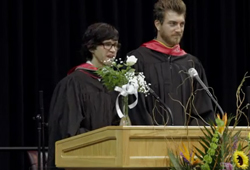 Self-proclaimed "Internetainers" (and some of my favorite YouTubers) Rhett & Link were asked back to their High School in North Carolina (Harnett Central in Angier)to give the commencement address to the graduating class of 2012. The ceremony took place at the John Pope Convocation Center at Campbell University in Buies Creek to a crowd of more than 3500 people.
What resulted is nothing short of fantastic –
What did you think? Have you ever imagined what YOU would say (or confess) if you were invited back to YOUR high school to deliver the commencement address?