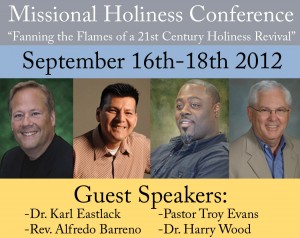 I registered this week for the upcoming "Missional Holiness Conference" taking place at Calvary Wesleyan Church in Bethlehem, PA on September 16-18, 2012.
I attended the conference last year and am excited again to take part this year in this event. I had the privilege of talking a bit about the conference last year on The Techology Show podcast a few days after the event. See that episode here.
This year's speakers include Karl Eastlack, Alfredo Barreno, Troy Evans, and Harry Wood. Worship is being led by Chris Stephens – a phenomenal musician, worship leader, and friend. The seminar speakers are equally exciting this year with Alfredo Barreno, Rich Avery, Sherilyn Sheets (this name sounds vaguely familiar), Tim Moore, Tom Armiger, Troy Evans, and Greg Reynolds each scheduled to speak on various topics in their respective seminars.
More information on the conference and the speakers' topics is available here on the conference site.
I have also been given a promotional code to share with anyone interested in attending the event. The promotional code makes registration only $79 per person until August 31, 2012. To receive this special price, you must enter the code 792012 when you register online at missionalholiness.org.
Registration includes a Sunday evening Keynote Address, 6 main rallies, your selection of 4 seminars, two breakfasts, 2 lunches, and four breaks. There will also be a wide variety of resource and information tables available. There are a variety of lodging possibilities in the area, but the conference has worked out a deal with the Hilton Garden Inn at a rate of $89/room for up to 4-person occupancy.