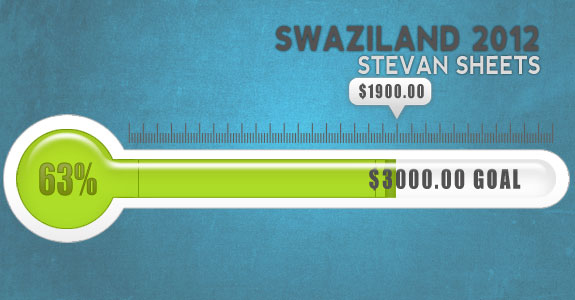 Another gift this afternoon put me at 63% of my fundraising goal ($3,000) for my October trip to Swaziland, Africa!
I have been humbled and overwhelmed at each gift and am continually thankful for the way the Lord continues to provide for this trip through some graphic-related jobs AND other gifts from friends and family!
If you haven't heard, I need to raise $3,000 for a mission trip to Swaziland, Africa that I will be joining my District Team on in October. While we are there, we will be providing a Pastor's Conference plus doing work at the college and visiting local churches and outreach points.
I haven't been out of the country since my Haiti trip in 2007 and am truly looking forward to this opportunity to serve the Lord and His Church on this trip!
While in "fundraising mode", any design-related work I'm able to do right now is going directly toward my fundraising goal. If you, or someone you know, needs a logo, flyer, postcard, business card, etc. designed – please consider me!
I've just finished a few projects in the last couple of days that I'm excited about and thrilled to have had a part in creating!
More information about my trip and fundraising goal is here – bit.ly/swazistevan