In case you didn't know, I'm going to Swaziland in October as a part of a district team that will be there for 2 weeks. More information on what we'll be doing is available here on my Swaziland page.
As of today, February 2, I am now at 47% of my fundraising need to participate in this mission trip!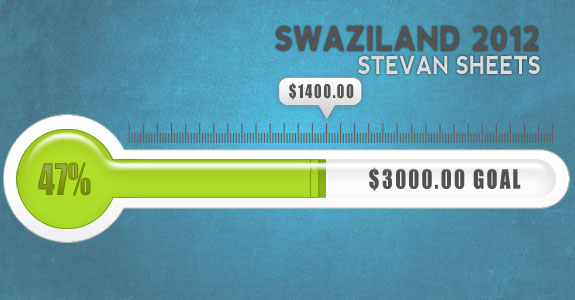 I am so grateful for each gift that has come in to support me in this adventure and opportunity to serve Christ's church. I am excited to participate in the "pastor's conference" we will be doing while in Swaziland.
At this almost halfway point in my fundraising goal, I am still in need of individuals and families to help me. If you would like to help me reach my $3,000 goal, would you prayerfully consider donating any amount. Click here for information about how you can give.
Being that I don't have a way to work more hours for "overtime" as a pastor, I'm also offering my computer-graphics ability as another way of trying to raise my needed funds for this trip. I just finished designing a unique prayer card for a missionary friend of mine that will be serving in Papua New Guinea. If I can help you with a project (t-shirt design? stickers? graphic? postcard? business card?) please don't hesitate to contact me – I would LOVE to help you with something as you consider making a donation towards my trip!