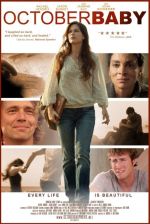 One of the most interesting people I follow on Twitter is @GiannaJessen. Her birth-story of being an abortion-survivor is incredible.
Recently she linked her followers to a movie coming in March entitled, "October Baby". Jessen sings a track on the movie's soundtrack and has a unique connection to the premise and story line of the movie.
The movie is sure to stir the pro-life / pro-choice communities – and I think it's going to be an eye-and-heart opener for many who walk the line between.
Movie Description:
OCTOBER BABY is the coming of age story of a beautiful and naive college freshman who discovers that her entire life is a lie and sets out on a road trip with a host of misfits to discover herself and the answers she craves.
The movie trailer:

More information about the movie, its cast, and theatrical release locations available at OctoberBabyMovie.net.