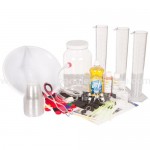 Thanks to Steve Spangler Science, we recently we received the "Ultimate Dry Ice Science Kit".
After the kit arrived in a single box the only thing we had to supply was some dry ice. A call to our local "Airgas" retailer netted us dry ice at less than $1.50/lb!. Having done some of the Spangler-approved dry ice experiments in the past, we quickly knew which items were for which experiments even before finding the papers in the bottom of the box suggesting the experiments to try with the kit.
The $80 kit contains the following:
• Boo Bubbles Kit (a large plastic mayo jar with a valve installed on the side and a length of plastic-tubing, a bottle of dish soap, also two kid-sized gloves for 'catching' the bubbles)
• 3 – 500 mL clear plastic graduated cylinders
• a bottle of "Atomic Glow" (adding drops made the water glow in black light)
• a bottle of "Universal Indicator" (a pH level indicator liquid)
• 3 Flying Film Canisters (the clear ones with Steve Spangler Science logo imprinted)
• Large crystal ball bubble bowl (perfect rim for creating the "crystal ball bubble")
• 15 – 9 oz cups (these came in very handy numerous times)
• a 24″ Cloth strip (thicker than a shoelace – perfect size for creating the "crystal ball bubble")
• 2 Pairs of clear safety glasses (imprinted with Steve Spangler Science, too!)
• Tongs (metal with rubberized handles – very helpful)
• 5 – 8″ Green glow sticks (fun to put into the graduated cylinder during the reaction)
• Dry ice glove (one glove with those rubber-beads on both sides)
• Miniature black light (a keychain push-button light)
We did try to film the experiments we performed, and some of that will eventually be edited and make its way online, but for now you'll have to trust me when I say, this kit is fabulous! The best part? As soon as I can get another cooler-full of dry ice, we can do all of our experiments again! Most of the kit-items are NOT disposable, and both the "Atomic Glow" and "Universal Indicator" came in amounts that should make performing these experiments happen DOZENS of times! This would be the PERFECT kit for a science teacher or elementary teacher to use again and again with class-after-class!
In our situation, Ella (who is 5) was thrilled with the safety glasses and the knit-gloves that were sized just right for her hands. She loved catching and holding onto the "boo bubbles" as we made them and was even successful at drawing the cloth strip (soaked in dish detergent) across the bowl to create the Crystal Ball Bubble!
My favorite 'experiment' was placing a small amount of water in the film canisters and then a small piece of dry ice and sealing it up tight with the lid and waiting for it to 'pop' off of our table. We tried different amounts of water and dry ice and noted the timing of the 'pop' accordingly!
Having watched most of Steve Spangler's videos on YouTube, we were fairly familiar with what experiments to try even without reading through the instructions that were included as a part of the kit.
The Ultimate Dry Ice Science Kit is available at Steve Spangler Science for $79.99.
Some of the experiments we were able to perform right-out-of-the-box (after we purchased dry ice, of course):
Full disclosure: Because of our "Science With The Sheets" videos that Ella and I filmed in the past (episode one, two, and three), Steve Spangler Science offered to send us this product if we'd use it and then review it. It was a no-brainer decision.