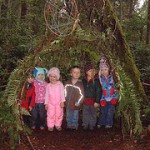 As soon as I saw this ABC news clip, I knew I had to re-post it!
In Vashon, Washington, teacher, Erin Kenny has a unique view of Kindergarten education. She has developed and launched what she calls a "Forest Kindergarten" – a Kindergarten class that meets outside EVERYDAY no matter the weather.
Intrigued? Watch the video:

From the school's website:
Friedrich Fröbel, a German educator, opened the world's first outdoor kindergartens (children's gardens), more than 150 years ago with the belief that young children should play in nature, away from an emphasis on too many numbers and letters. Today, Germany has several hundred of these Waldkindergärtens, or "forest kindergartens," in which children spend their entire class time outdoors year-round. Similar schools exist in other European countries, however there are very few of these programs yet in the United States.
I love it when every once in a while a WEIRD idea like this gets some coverage and ruffles the feathers of all of us who are so accustomed to the "normal" way of doing things!
What do you think? Could you send your 5-year-old out into the forest everyday for "Forest Kindergarten"?