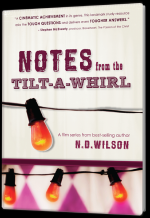 Recently, I was sent a copy of the DVD, "Notes from the Tilt-A-Whirl" by the folks who produced it – Beloved Pictures.
The DVD is self-described as:
"An idea film. A bookumentary. A cinematic treatment of a worldview. A poet live in concert. A motion picture sermon. VH1 Storytellers meets Planet Earth. 60 Minutes meets Sinners in the Hands of an Angry God. In this unusual but fascinating film sequence, best-selling author N.D. Wilson gives an emotional and intellectual tour of life in this world and the final chapter that is death. Everything before and after and in between is a series of miracles – some of which are encouraging, others disturbing and uncomfortable."
Here is the trailer for the movie:

As I took in this unique form of media I couldn't help begin to write this blog-review in my head and if I'm honest had some trouble formulating my response to this piece of art.
N.D. Wilson has quite a resume of education, authorship, and accolades and is the main subject of this film. Not having read his book (or anything from him previously) I would assume that his speaking style in this film mimics his writing style (again, the DVD is described as a 'bookumentary').
I originally assumed this film would possibly be used as a possible discipleship curriculum. After reviewing it, I'm not so sure. There is an accompanying "study guide" in PDF format that I was able to download in a few steps and printed off, but I'm not sure in my context if this style of 'curriculum' would be well-suited.
I do think I will use this resource as a pass-it-on opportunity to those in my circles needing a new, relevant, thought-invoking look at the Gospel message who thrive on intellectual conversations.