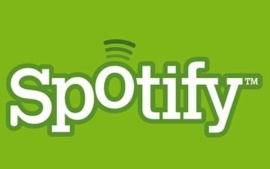 I agreed to spend a week at our district youth camp this Summer serving in numerous capacities, but one of the main one was as the "AV Guy", handling the video & sound needs from the back of the room during our worship rallies. I love this role!
This year I happened to receive an invite to the music service, Spotify, just a few days before camp began and I instantly knew that I would be using it during our week of camp. During pre-rally times and during some of our events that take place in the tabernacle we oftentimes play music in the background to keep things flowing. This music is usually stored on one or more computers that we plug in and out of the sound system throughout the week.
This year we used Spotify. Spotify is a "cloud-based" music service and allows playback of millions of songs from their HUGE library! The service can be logged into from any computer with Internet-access and can get you streaming music from their library in a matter of moments!
For $4.99, we upgraded to Spotify's "Unlimited" plan for the week. This was a month-long subscription, and I was able to easily cancel it after camp. This plan offered us NO advertising interruptions, which helped because we were playing songs one right after the other with no break. (I think with the FREE version, I experience a 15-30 second advertising once every 5-10 songs)
The big bonus for using Spotify at camp was asking for student-input into our camp-week playlist! I would grab student after student and ask them what artist and/or song they would like to have added to the playlist and was almost-always able to oblige because of Spotify's huge library of music! Our playlist for the week offered songs from Toby Mac, Owl City, and dozens of others to attempt to satisfy the tastes of our 100+ students and leaders gathered throughout the week. I was continually impressed that Spotify had many of the Christian-artists that we wanted to add to our camp playlist.
If you haven't yet joined Spotify, you're not alone – they're still limiting the number of users here in the U.S. and invitations are few and far between. The two that I was given a few weeks ago were gobbled up quickly via my offer on Social Media. Even without an official invitation, you can head to Spotify.com and enter your email address to be notified when they are accepting new members!
Also, be sure to check out some of Spotify's features (even before you sign up) to know how it works and how to make it work best for YOU!