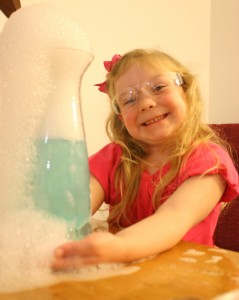 The benefit of receiving something frozen via postal delivery? Good (great!) food AND a generous amount of dry ice in the package!
Yesterday we received such a delivery and after putting the perishables in the freezer I instantly knew what should be done with the remaining dry ice – EXPERIMENTATION!
It is such a joy to watch the excitement of our 5-year-old daughter when we do experiments. I am once-again indebted to Steve Spangler for encouraging us along the way – even before he personally encouraged us! (His book is still on sale here.)
If you don't have the benefit of receiving dry ice in the mail, you can also (apparently) pick it up at your local grocer for a cost.
Have YOU done anything cool with dry ice before? We'd love to know about it (we still have a pound or two left over – and it's melting!) – leave a comment letting us know what else we can try!
We bought our awesome safety glasses from stevespanglerscience.com