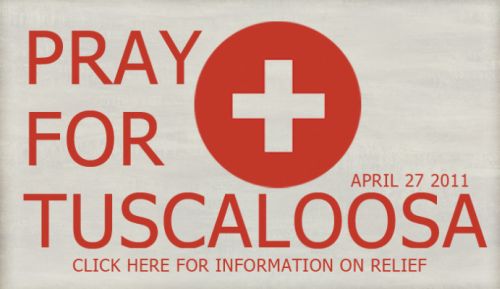 On April 27th, a horrible string of storms brought incredible tornadoes to and through Tuscaloosa, Alabama. The images and videos of the tornadoes and the resulting damage have been nothing short of horrific. More than 300 men, women, and children lost their lives as a result of those storms in that area.
Through the wonders of Twitter and Facebook, I have been able to watch pastor-friends of mine respond to the needs on the ground there in Tuscaloosa nearly instantaneously. Following @WetPaste (Wes Pate) and @scottmoore80 (Scott Moore) has helped been helpful to me to know how to pray and update those around me on the needs from the area.
Today the Wesleyan Church released a video interview with the pastor and wife from Tuscaloosa's First Wesleyan Church, Rev. Joel & Tracy Gorveatte where they update us on what the relief efforts look like as well as the large-scale ramifications of a tragedy such as this:

The Wesleyan Church has also established The Wesleyan Emergency Relief Fund to direct funds to the heart of Tuscaloosa through our church there to support the relief efforts that are most needed. Online giving is available through this link.
I am so proud of our sister-church there in Tuscaloosa that is able and willing to be a central hub in the relief-efforts there in their community. They truly are being the hands and feet of Christ in Tuscaloosa.
More information about the needs of the relief effort can be found on on Tuscaloosa First Wesleyan's website here.
More information on our Wesleyan Church denominational response to the tragedy is here.