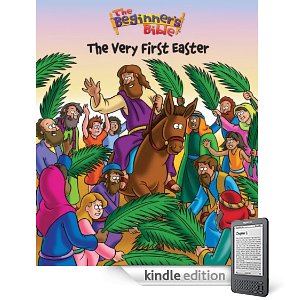 Right now, Amazon is offering the eBook, "The Very First Easter" for FREE through the Amazon store.
STOP. I know what you're thinking: "I don't have a Kindle, so I this is a worthless blog post." Well let me tell you that I don't have a Kindle either and I've already downloaded this book on my phone AND my laptop!
The whole eBook craze is a bit overwhelming for sure, but if you'll take a moment to realize how YOU can get in on the craze WITHOUT having to buy another $200 gadget, you might learn something.
Amazon offers a Kindle "app" for many platforms:
Kindle for PC
Kindle for iPhone or iPod
Kindle for Blackberry
Kindle for iPad
Kindle for Android
Once you "purchase" a book (this one is FREE, mind you) you can automatically send it to any device that you have installed the application on and the next time you open that application the book will download and you can begin reading!
How cool is that? And what are you waiting for? Most Kindle books are listed CHEAPER than the print-copies, so you might be more-inclined to buy the book as an eBook and save a few bucks and read it on your phone, iPad, laptop, or even desktop computer!
Now, more about the book…
In "The Very First Easter", children will learn the story of Christ's death and resurrection, and the reason we celebrate Easter. Featuring The Beginner's Bible vibrant art this book will delight children as they learn what Jesus did for them.
The book weighs in at a lightweight 31-pages. If you choose to download it, let me know in the comments! And let me know if listing FREE (or greatly discounted) books like this is something you'd be interested in here on stevansheets.com!