If you're a human being with working tastebuds and don't happen to be allergic to chicken, chances are you've heard of and fallen in love with Chick-Fil-A. Often referred to as "Christian Chicken" by people like me who love the food AND love the story behind the chicken (ie, founder Truett Cathy's personal faith in Jesus Christ), Chick-Fil-A is a favorite restaurant for our family.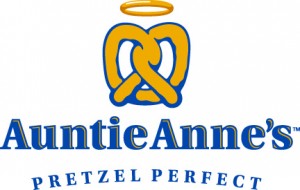 Thanks to a recent Twitter-follow from user, "@annebelier" I uncovered another faith-based history of another frequented-by-our-family food-establishment that until now I had no idea about.
Turns out that @annebeiler is the account of Anne Beiler, founder of Auntie Anne's Pretzels!
From The Beiler's website:
To support Jonas' [Anne's husband] vision to help others, Anne bought a concession stand at a local farmers' market in Downingtown, Pennsylvania. She sold everything from pizza to ice cream, but it was the hand-rolled soft pretzels that customers couldn't get enough of. Because of the demand, Anne dropped the rest of the products and concentrated on perfecting the pretzel. Auntie Anne's Soft Pretzels was born.
A little clicking-and-reading around revealed to me that the Beilers are Christians with a passion for loving God and loving people.
A glimpse of "their story", also from their website:
The Beilers have always believed in leading by example, doing business with integrity, and giving back to the community. While at Auntie Anne's, they demonstrated their business principles with the acronym, LIGHT: Lead by example; Invest in employees; Give freely; Honor God; and Treat all business contacts with integrity. These principles continue to LIGHT their way as they follow their passion to serve people, strengthen families, and build community.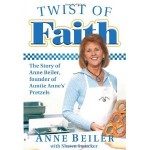 I also discovered that Mrs. Beiler has written a book, "Twist of Faith", published by Thomas Nelson back in 2008. I've already added it to my ever-growing wishlist and hope to eventually make time to learn more about the story of Anne Beiler, her love for Jesus and her love for pretzels. (Is it wrong to also hope that there is also a discount coupon in the back of the book somewhere?)
The book's description:
Anne Smucker Beiler was born in Lancaster County, Pennsylvania, where she attended a two-room Amish school. Bred into the fabric of her close-knit family and into her soul were the elements of sincere Christian faith, an excellent work ethic, and an eye for good business opportunity. Anne's journey is a remarkable story of failure and success. She persevered through a series of difficult personal struggles-including the tragic death of her second child, being betrayed by someone she trusted implicitly, and a terrible six-year depression-to become the leading female franchise owner in the United States. Anne is one of the few women who have founded national companies in America. What makes her story most extraordinary is her determination to help others by telling her full story-the good, the bad and the ugly.
Anne blogs at thebeilers.blogspot.com.