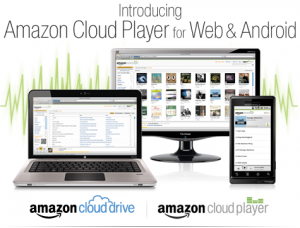 This morning, Amazon launched "Amazon Cloud Drive" a brand-new storage solution for those of us who use multiple computers and devices. With the launch, Amazon is offering 5GB of FREE storage. 5GB is enough space to store about 1,000 songs or about 2,000 photos.
The benefit of storing in the "cloud" is that our files are ALWAYS available (so long as we have an Internet connection). This means that if we store a photo or a song via the Amazon Cloud, it can be accessed from any computer with an Internet connection WITHOUT having to copy that file TO that actual computer. Amazon also updated their "Amazon MP3 App" for Android to allow us to stream any song in our storage cloud directly to any Android device, too! I can now access 5GB of songs on ANY Internet-connected computer and my cell phone! How cool is that?
With their newly launched "Cloud Drive", Amazon is also offering a year of 20GB storage for FREE with the purchase of ANY album via their Amazon MP3 store. (There are "albums" that cost ONLY $.69, by the way)
One of the other benefits of "the cloud" via Amazon is that ANY MP3 purchased from Amazon will NOT count against our storage limit – we can purchase 50GB (or more!) of music through Amazon MP3 and still use ONLY the FREE "Cloud Drive" account of 5GB storage.
Sound confusing? Watch this video explaining Amazon's Cloud Drive:

No video? Click here.
Sign up for Amazon's Cloud Drive today for FREE 5GB storage!