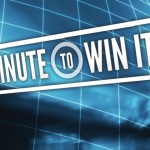 The show "Minute To Win It" debuted on NBC back in March, 2010. Since then, people from around the world have been introducing the quirky, fun, and satisfying 60-second games in their churches, youth groups, staff-retreats, conferences, and business-meetings as a way of livening up the crowd and creating a fun atmosphere.
In my previous church as a youth pastor, Minute To Win It games were a highlight of our youth group gatherings. I've even blogged some videos of our students doing some of the games.
I also started collecting resources from across the Internet to help others use the idea behind the show to introduce Minute To Win It in their own context.
I've also received lots of email requests for the BluePrint videos, sound track, graphics, timer, etc. And I've tried to share those resources with as many people as possible. Some of the sharing-methods have been less-than-adequate, so I'm trying again.
I recently uploaded everything I've created and found readily available on the Internet in regards to Minute To Win It. It is all available here for download. From a 60-second timer to the blueprint instruction videos, and even some graphics I have created – everything I have is available here for instant download. If you find any of these resources useful, I'd love for you to leave a comment letting me know where and how you are using them.
Special thanks to my buddy Shane for helping me for the last year to manage this growing list of resources that I've been continuing to amass.

UPDATE (September 23, 2011) | Currently, the ONLY way to download these blueprints and other resources for Minute To Win It is to wait for the bandwidth from box.net to reset each month. If you have ideas/suggestions on how I could host these files for FREE elsewhere without the restrictions we're getting from box.net, please leave a comment.