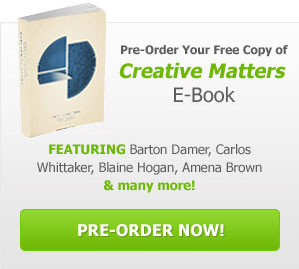 I just stumbled upon this soon-to-be-released resource that I had to share with my brothers and sisters in ministry. It's called "Creative Matters" and is being released soon in E-Book format (pdf, I'm assuming).
From the website:
Creative Matters is a call to arms for all of us who endeavor to create beautiful, transcendent and transformational experiences in and around the Church. It's a field guide of sorts…written by Creatives for Creatives… for those who work in the trenches of the "Create-On-Demand" challenges that every weekend brings. It's a fresh perspective on the process, people, and purpose surrounding Creativity. It's an invitation to live and work in a way that is both inspired and inspiring. And it's the kind of kick-in-the-pants that we all need and will come back to again and again.
Contributors to the book include:
Jarrett Stevens
Promise Tangeman
Stephen Proctor
The Gungors
Barton Damer
Carlos Whittaker
Todd Henry
Amena Brown
Blaine Hogan
Marc Pierson
Stephen Brewster
CJ Alvarado
Cole Nesmith
Tim Schraeder
You can pre-order the book here. Again, it's FREE!