One year ago TODAY, the devastating earthquake hit Haiti. It doesn't seem possible that it was a year ago already.
On the day after the earthquake, I was still sorting through my emotions from the tragedy in a land that I grew to love while there on a short, 2-week mission trip. I launched the website thisishaiti.org and with the help of many friends and family we raised over $2,200 to send to World Hope International towards their Haiti-relief efforts.
The efforts of thisishaiti.com continued on to not only support World Hope International financially in their efforts, but the logo I created was actually adopted by World Hope and is now being used in their continuing efforts to support Haiti's rebuilding efforts!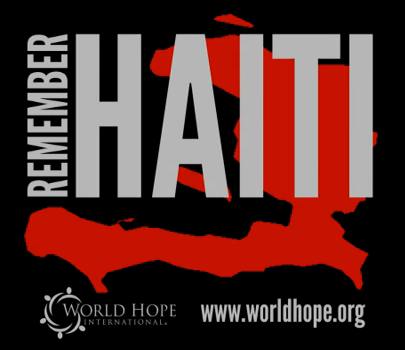 This Summer, World Hope went on a "Big Ticket Music Festival Tour" with their "Haiti Experience" to ask people to "REMEMBER HAITI". Here is a promo video they produced for that:
Today, too,
World Hope
released a new video documenting their efforts of relief in Haiti. I am so proud to know that we supported and continue to support World Hope!
In the video above, World Hope reveals some of
their
relief effort statistics:
– 83,200 families received 12,800 food kits
– 68,500 bags of water distributed to Haitians living in tent cities
– 8,500 adults, 7,300 children, & 400 pregnant women benefited from WHI's clinics
– 337 cholera patients received dedicated treatment
– 16,400 individuals received cholera prevention & hygiene education
– 7.27 tons of seed & 145 goats were distributed to help restore Haitian agriculture
Let's continue to REMEMBER HAITI and pray continually for the relief efforts and give as we are able! Thank you to all of you who supported my personal effort a year ago to launch and give through thisishaiti.com! When that domain name dissolves in a few hours, the memory of what we accomplished in a few short days will live on through the continued efforts of our friends at World Hope International!