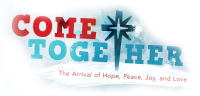 This morning was the first Sunday of Advent and as such we began our Advent series entitled, Come Together. I preached the first message entitled, "Take Hope" and we learned from the interaction between Mary and Gabriel that we have a hope that can get us through the hopelessness that our culture focuses much attention on.
This morning's sermon audio is available here.
It was also an exciting morning to reveal our sanctuary Christmas decorations. The sermon series "Come Together" made me want to transform our sanctuary into a place where we come together around Christmastime. What started as a brainstorm quickly transformed into some chicken-scratches on a sheet of paper. I shared the vision/ideas with a few people and they helped me transform our stage into a real-life living room!
I am VERY proud of what we were able to come up with!

I filmed another time lapse video of our sanctuary-decorating, too:
I'm looking forward to the next 3-Sundays as we continue the Advent season and anticipate the coming of Christ!