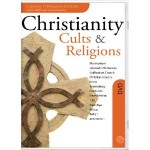 A few days ago, I was sent a copy of the DVD, "Christianity, Cults & Religions" to sample and review from Rose Publishing. This afternoon I made some time to sit and watch through the first of six lecture-based studies and was very impressed.
The lecturer, Paul Carden is extremely knowledgeable and easy-to-understand. The first session gives a well-grounded Biblical basis for a study of this nature and Carden gives ample reasoning for why Christians today need to go through a study of this nature.
I am already planning on using this study in my adult Sunday school class in a few weeks.
The DVD curriculum includes six 30-minute lectures from Carden as well as a supplemental DVD with a PDF of the Leader's Guide which can be printed and used in the classroom setting.
The DVD retails for $29.99 and is available for purchase here if you're interested.
Here is a promotion-video for the DVD-based study:
From the product description: "Paul Carden, one of the most respected specialists in this field, has spent 30 years researching, writing and broadcasting on the topics of cults and new religions. He is the general editor of the best-selling cults comparison chart, Christianity, Cults & Religions."
Rose Publishing sent me a couple copies of Carden's "Cults Comparison Chart" that I am giving away here on stevansheets.com
To be entered in a drawing to receive one of these glossy comparison charts, simply comment below leaving your contact information and I'll pick the winners by November 1st. The comparison chart is available on Amazon.com for $3.99, but you can potentially get one sent to you FREE simply by commenting on this blog post! Check out the comparison chart's description over at Amazon.
Here is a video showing the chart's usefulness: