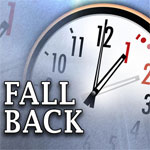 If you're like me, every Spring and Fall you get a little nervous about the upcoming "Daylight Saving Time" clock-fiasco. For my entire life I've known about Daylight Saving Time, but I've never taken time to really understand the when, why, or how it works.
That changes for me today.
I was researching the "Fall Back" date to be sure to announce it at church and decided to do a little reading on the subject of Daylight Saving Time.
DST has been happening in the US since World War I. It's main goal was to allow an 'extra' hour of daylight during the Summer months to help farmers eek-out the extra daylight everyday. That makes no sense to me, however, since every farmer I ever knew would get up and begin work HOURS before daylight everyday anyway!
Since 2007, DST always begins on the second Sunday of March and ends on the first Sunday of November and actually takes place at 2AM on those beginning and ending dates each year.
I think everyone in America prefers the Fall-back end to DST rather than the Spring-forward start.
One trick my Dad always played on us growing up was turning the clocks forward or backward a day-early so that we could get used to the time-change. I have begun the same tradition in my own household as much as possible.
Anyone else have any DST tips or tricks?