Today was a great day all around at First Wesleyan of Shippensburg! I taught on the topic of "words" this morning with a realization that we are people of "words" and need to be people of The Word – God's Word. His Word is perfect, our guide, and alive!
I showed a clip from the NPR/Radiolab video, "Words" and also finished the sermon by reading Rob Lacey's 2-Minute Bible from the Word on the Street paraphrase.
We had guests from Kittany (PA), Newark (DE), and Hagerstown (MD) today at First Wesleyan!
This evening 40+ of us gathered back at the church for a fellowship dinner. We had a wonderful time building relationships with each other! I am so grateful to be a part of a church family that enjoys getting together "just because"! It was refreshing to gather together tonight just for the sake of building relationships with each other!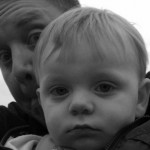 I uploaded a bunch of photos from tonight's gathering on Facebook.