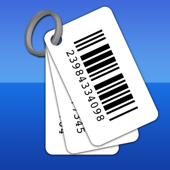 I'm enjoying discovering the joys of having an Android-running mobile phone. (The HTC EVO) I installed the application, "Key Ring" yesterday, and felt the need to pass on the resource!
Key Ring seeks to slim your wallet or purse by allowing you to scan in the many types of rewards-cards you have cluttering up your wallet or purse and save them digitally in your phone! On my HTC EVO, I was able to successfully take photographs of the few rewards cards I had in my wallet and the software instantly converts the photo into an actual barcode that I can then scan at the establishment.
I signed up for a Key Ring account so that I can also manage my cards on their website and it gives me the option to update store logos and information. For instance, my rewards card for Kings Family Restaurant was not included in the software's list of recognized establishments. I was still able to scan my card and then on the website I was able to upload a logo and brief information about the restaurant. From my phone I was even able to automatically send the app-creators an e-mail asking to include the store in their software updates.
Since installing the app, I have taken out one reward card from my wallet and taken two off of my keychain!
Here's a great review of the app in action: