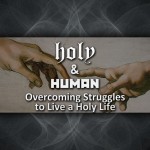 This morning I introduced my first sermon series to our church family. The series is based on the book by the same title, "Holy & Human" by Earle Wilson. This week I kicked the series off with a message about frustration.
Frustration IS a part of our life – how we react to those frustrations is what we focused on this morning. Our people responded well to the message and the closing challenge. I thank the Lord for that!
This afternoon the entire Sheets family napped like our lives depended on it. We all needed the rest! The kids continue to fight their colds while mom and dad have managed to steer clear of the worst of it.